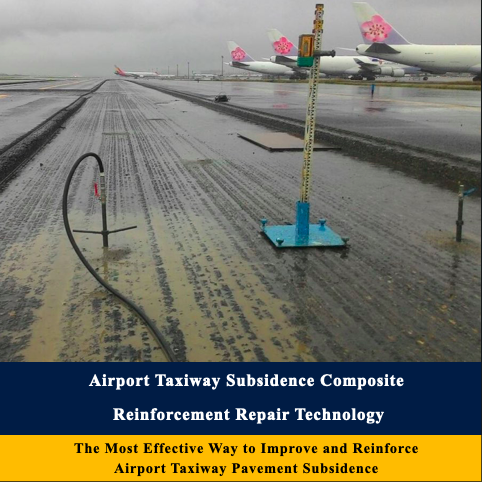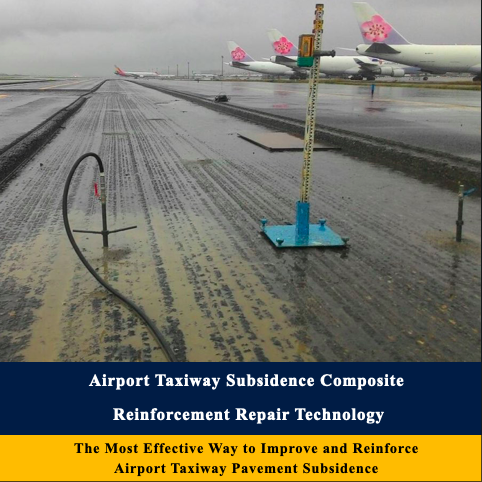 Reinforcement Repair – Airport Taxiway Subsidence Composite
The Most Effective Way to Improve and Reinforce Airport Taxiway Pavement Subsidence
1. PROJECT BACKGROUND
Reinforcement Repair –After a period of use, an airport taxiway experienced localized continuing subsidence, resulting in flexible pavement cracking.
In order to prevent accidents, the operators, especially invited industry experts to study repair countermeasures.
The airport was not only a taxiway, but aircraft take-offs and landings were frequent, so the repair project required completion within a time limit to reduce the flight delays.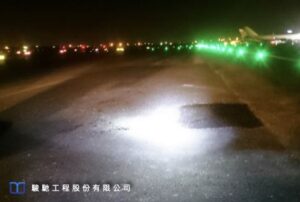 2. SOLUTION
According to the study findings, the main causes of the airport taxiway subsidence were: the compaction of the roadbed soil layer in the subsidence sections causing slight voids and cracks in the cement treatment layer under the road slab.
In the rainy season, the soil under the roadbed was subjected to surface water infiltration.
When subjected to the concentrated load of wheels, the mud sprayed up to ground level through the fissures, causing localized hollowing out.
Therefore, in solution design, special emphasis was placed on the improvement of the roadbed soil and the cement and jacking and strengthening treatment.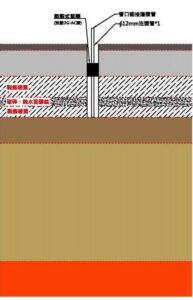 3. WORKS DESIGN
Due to the tight repair period, in addition to the 24-hour uninterrupted planned works, the selection of grouting materials was especially long-lasting grout with high compressive strength and short setting time.
To improve the roadbed soil layer, non-shrinking cement LW grout to be used; at pressure of not more than 3000kPa, and the vertical jacking height not less than 3mm.
For cement treatment of underlying layer reinforcement grouting, non-expanding rigid PU resin grout at pressure of not more than 1000kPa, and the vertical jacking height not less than 3mm.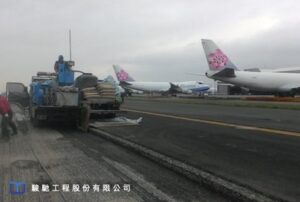 4. WORKS PROCESS
The aggregate asphalt layer and the modified density asphalt layer on the surface of the repaired section was to be milled and planed later, so during site improvement and reinforcement grouting, it was required to achieve effective jacking conditions in order to fill voids and form the compaction grouting. 
In order to control the overall jacking amount and at the same time to make the injected grout evenly distributed under the taxiway, the grouting process used an auto-alarmed laser level with an accuracy of 0.5mm for multi-point recording and control.
In order to emphasize work efficiency when drilling, a pneumatic drill was selected for deep hole drilling; an electric long drill was used to perform shallow hole drilling.
All large-scale equipment was installed on motorized vehicles to coordinate with airport security.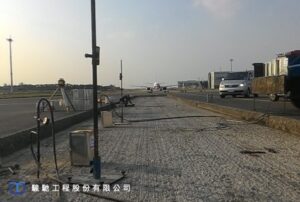 5. RESULTS
In order to achieve excellent site improvement and reinforcement effects, an automated control system was used for pressure and flow control, and recording during the grouting process.
Through the uninterrupted efforts of all the staff and supervisors, all the grouting work was successfully completed and within the time required by the contract.
After the supervising group confirmed that the design requirements were exceeded, the site was handed over to the construction unit to re-lay the asphalt surface.
The composite reinforcement and repair work for the subsidence of the airport taxiway was successfully completed.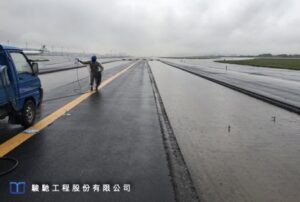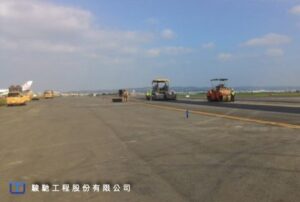 ・More Construction Result Sharing
Contact us:+886 2769-2355
Airport Taxiway Subsidence Composite Reinforcement Repair Technology
Get the full PDF by filling up your email
Copyright ©Jines Construction Co.,Ltd