1. Dual Pipe Grouting
The dual pipe grouting method is a versatile low-pressure grouting technology suitable for various formations and grout materials, with adjustable grout curing time.
In this method, the strata are treated through 50cm sequential or reverse grouting intervals, allowing for effective treatment of compacted, split, vein intrusion, or plugging.
The unique characteristic of the double-layer pipe lies in the separation and mixing of inner and outer pipe grout materials at the pipe's opening.
This facilitates the adoption of a two-diameter grouting mode, combined with instant-setting or slow-setting slurry materials, enabling precise control of solidification time and grout advancement distance in the formation.
As a result, the dual pipe grouting method proves effective in achieving site improvement objectives and mitigating water inrush issues.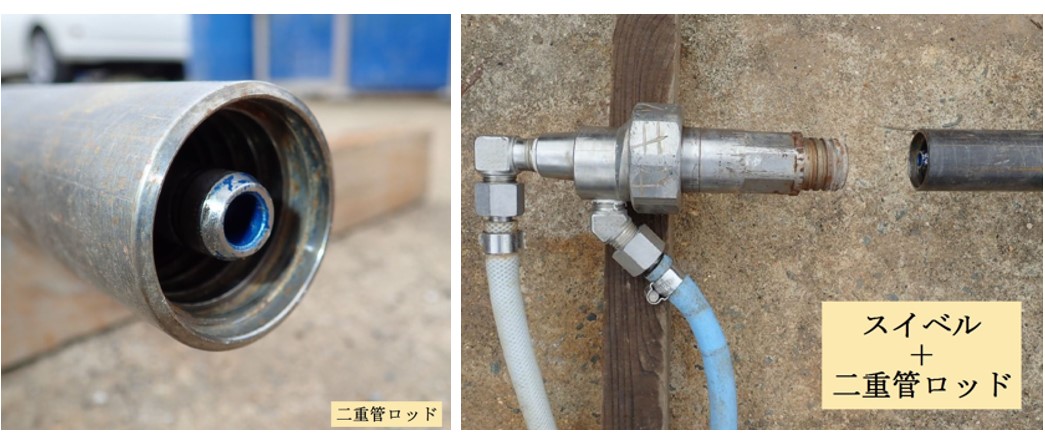 ―
2. Dual Pipe Grouting Application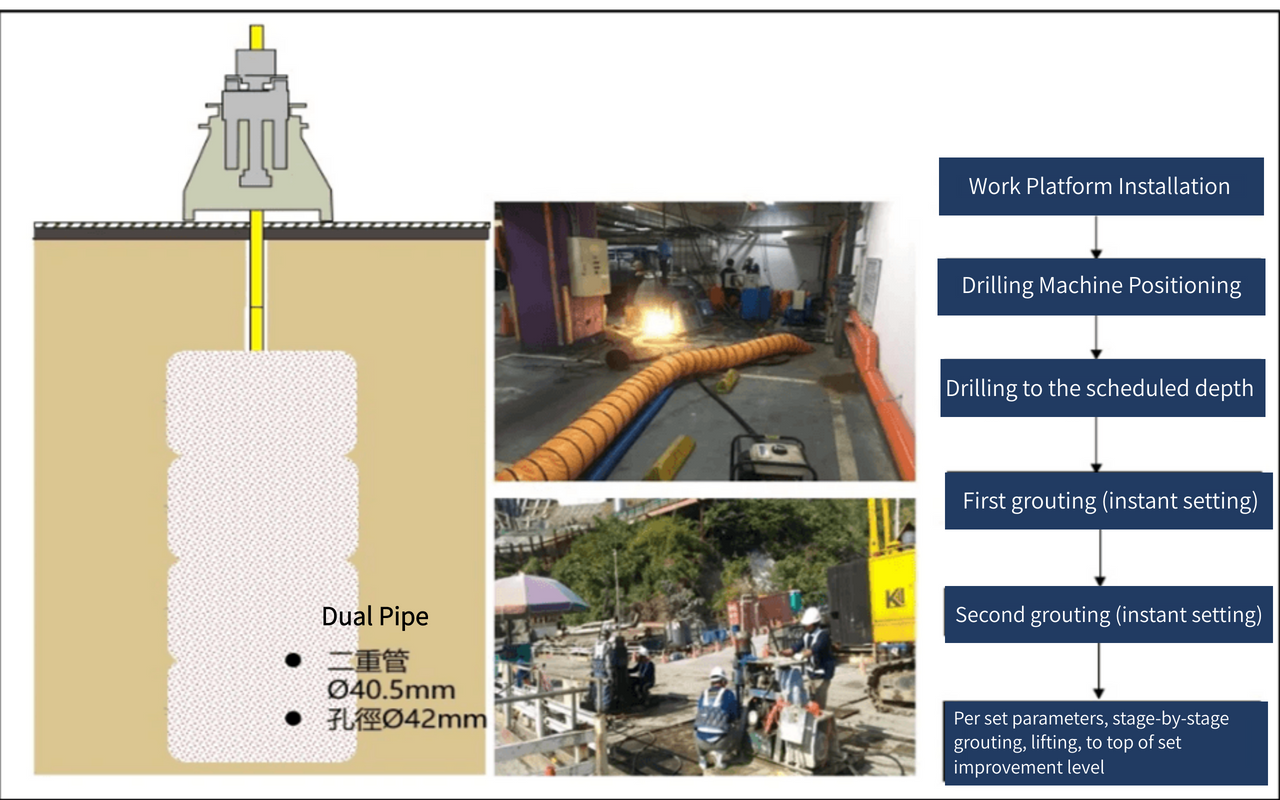 ―
3. Dual Pipe Grouting Equipment Configuration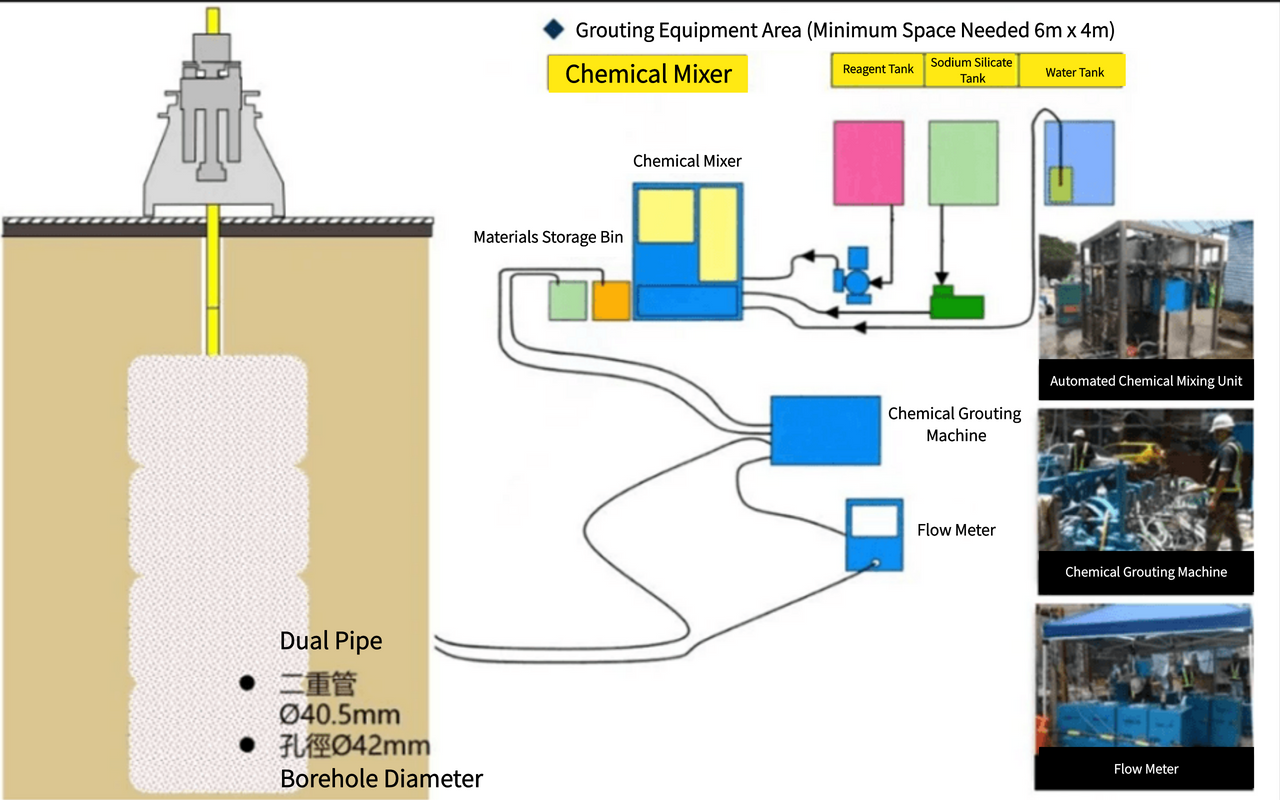 ―
4. Key Focus Areas of Execution:
Positioning (location & angle)
Use clean water flushing for drilling (washing boreholes).
If necessary, use drilling rig for hole stabilization.
Grout injection (corrosive or high-density grout materials in the inner pipe, non-corrosive grout material in the outer pipe).
Inject instant-setting grout to seal the gaps around the grouting pipe & fill larger voids (preventing grout escape).
Perform grouting at 50cm intervals (per design).
Alternate injection of instant-setting & slow-setting grout (per design).
Monitor grout pressure & flow rate in real-time (to prevent grout waste or grout flowing into surrounding underground spaces or pipelines).
Monitor surface uplift in real-time (to prevent surface jacking damage).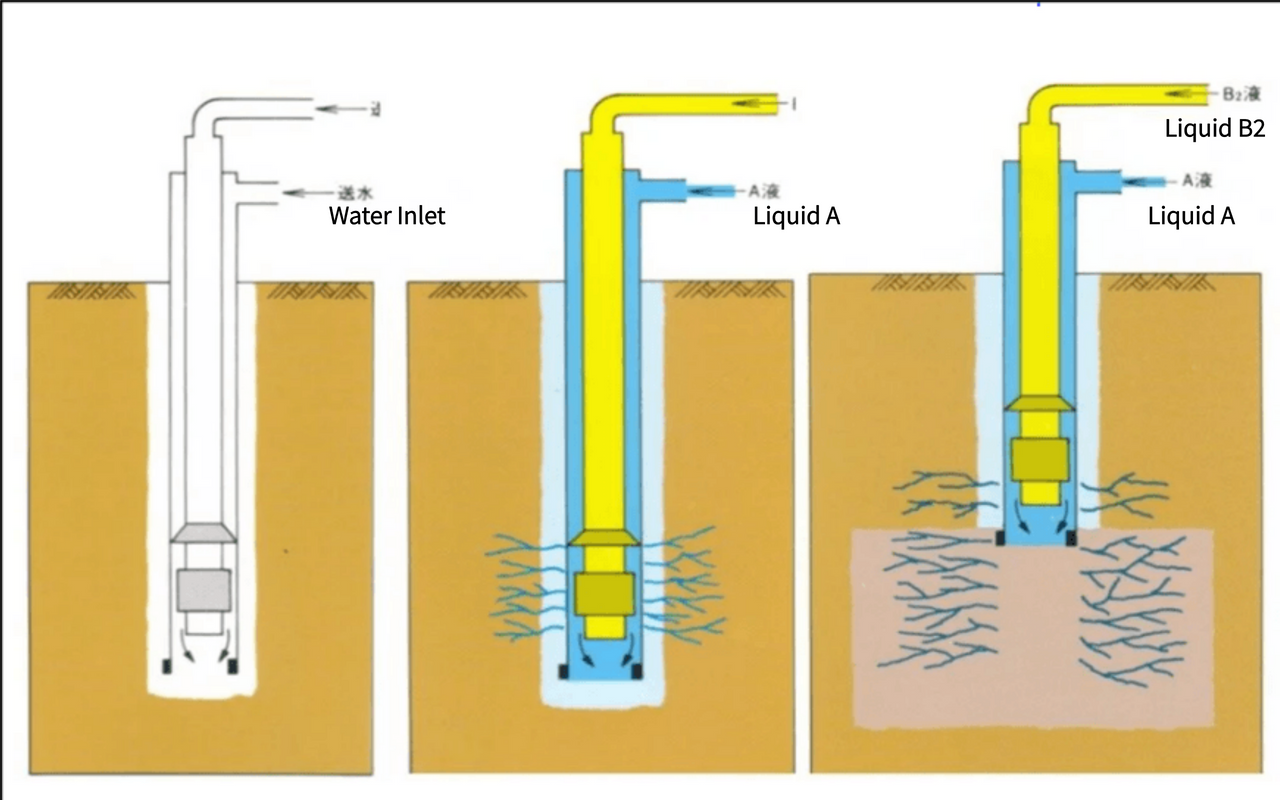 ―
5. Advantages and Disadvantages
Advantages:
Utilizes conventional drilling machines for borehole drilling and grouting.
Allows for layered grouting based on specific requirements.
Enables using different types of grout materials at the same location.
Suitable for various improvement objectives, offering a choice of grout materials (SS, SSA, LW, FLW, CB, Cement).
Capable of performing vertical, horizontal, or angle-specific grouting as per the design.
Provides control over grout curing time.
Disadvantages:
Requires multiple grouting equipment units, demanding a larger equipment space.
Not suitable for shallow grouting (susceptible to blowout).
Requires experienced personnel to operate (interpreting grout pressure and flow rate, responding promptly).
―
6. Main Equipment:
Conventional Rotary Drilling Machine
Dual Pipe (Ø40.5m)
Various Types of Drill Bits
Power Generator
Chemical Grouting Machine (Dual-Component)
High-Speed Grout Mixer
Low-Speed Grout Mixer
Materials Storage Bin
Grout Mixing Tank
Water Pump
Testing Equipment (specific gravity, pH, Curing Time
Flow Meter
Pressure Gauge
Automatic Recording Equipment
Permeability Testing Equipment
Sampling Equipment

―
7. Common materials
Sealing:
Super Instant-Setting SSA Chemical Grout (Long-lasting, easily controllable curing time, resistant to salt, alkali, & organic environments)
Instant-Setting SSA Chemical Grout (Long-lasting, easily controllable curing time, resistant to salt, alkali, and organic environments)
Instant-Setting SS Chemical Grout (#3 Sodium Silicate Grout / for short-term use)
Super Instant-Setting FLW Cementitious Grout (Long-lasting, easily controllable curing time, resistant to salt, alkali, high strength)
Instant-Setting LW Cementitious Grout (For short-term use, high strength)
Reducing Stratum Permeability and Underground Curtain:
Slow-Setting SSA Chemical Grout (Long-lasting, resistant to salt, alkali, and organic environments)
Slow-Setting SS Chemical Grout (#3 Sodium Silicate Grout / for short-term use)
Ground Improvement:
Slow-Setting FLW Cementitious Grout (Long-lasting, easily controllable curing time, resistant to salt, alkali, high strength)
Slow-Setting LW Cementitious Grout (For short-term use, high strength)
Cementitious Grout (Long-lasting, used for compaction or veined improvement, increases strength/non-controllable curing time)
CB Grout – Cement-Bentonite Grout (Long-lasting, used for filling voids/non-controllable curing time)
Soil Remediation:
Slow-Setting SSA Chemical Grout (Low-permeability curtain)
Instant/Slow-Setting SSA Chemical Grout (Prevents blowout/loss)
―
8. Dual Pipe Grouting Method

―
9. Dual Pipe Grouting Case