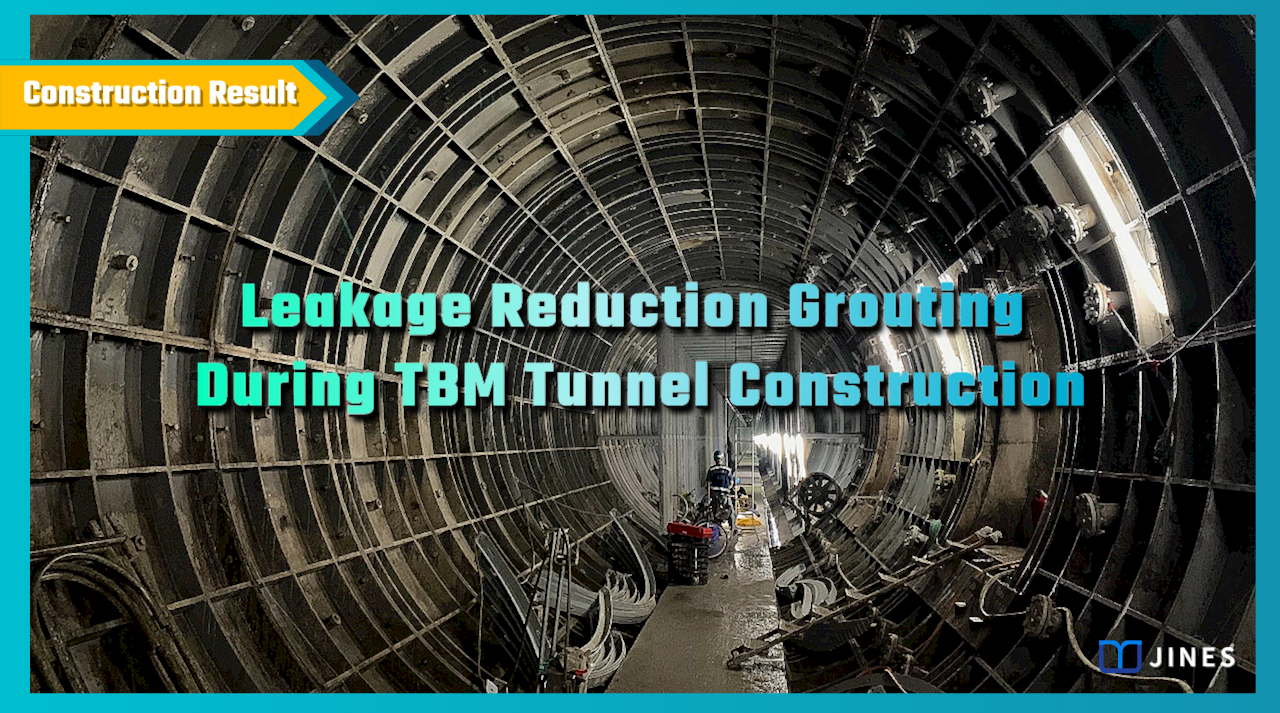 LEAKAGE REDUCTION GROUTING DURING TBM TUNNEL CONSTRUCTION.
TBM tunneling complex leakage reduction grouting technology
1. Project Background
After commencing TBM tunneling construction, there were many different forms of water seepage. The water seepage conditions did not meet the criteria required per the contract.
In order to improve the construction quality and make the follow-up acceptance and delivery operation work smoothly, the construction unit commissioned professional contractors to carry out leakage reduction planning, and deliver it for implementation after review and approval.

―
2. Solution
After accepting the job, the company immediately assigned engineers to the site to conduct surveys and gain an in-depth understanding of the nature of the contract.
From this they could formulate the most effective and cost-effective way of leakage prevention. After summarizing the seepage data, the solution was proposed as follows:
(1) Sealing of the annular wall interface and concrete secondary construction joint leak-proofing. Inclined holes at 60 degrees to be used for second-degree grouting, and polyurethane resin grout to be used to stop leakage and seal concrete cracks.
(2) Contact the horizontal shaft to do leak-stop grouting. Use 45-degree inclined holes for second-degree grouting, with polyurethane resin to achieve leakage prevention and bonding of concrete cracks.
(3) Concrete ring interface leakage prevention. Run grout through the cover cap openings, and fill with elastic non-expanding polyurethane resin and seal.
(4) Steel ring lining leakage prevention. The ring interface, bolt holes, and backfill grouting hole cover is perforated in a forward direction. Elastic non-expanding polyurethane resin is to be poured to seal.
(5) Improve the sealing of the back side of the sealing wall. The original designed aqueduct used to infiltrate the grouting with chemical agents in the strata behind the sealing wall to reduce the strata permeability coefficient.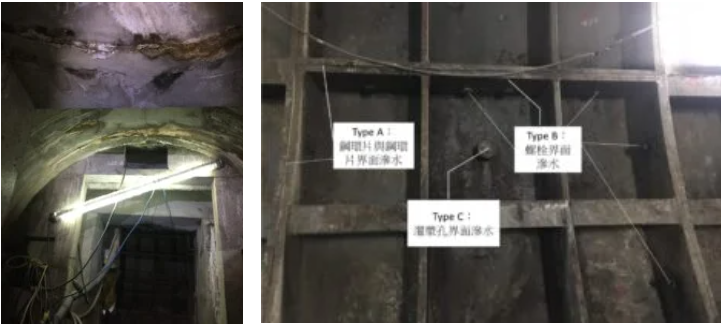 ―
3. Works Design
As the water leakage points of this project were located in different blocks, the construction methods covering 50~300 cm concrete walls, concrete rings, steel rings, etc. could be roughly divided into 3 types:
(1) Cracked concrete polyurethane resin inclined hole pouring. Use 45°~60° oblique 10mm drilling holes, and install tight-fitting check valve grouting device. First use Tipor-3 or above self-expanding non-solvent polyurethane resin for water seepage grout plugging; then, use elastic non-expanding polyurethane resin to seal the cracks.
(2) The polyurethane resin is to be poured forward. Use forward 2-point drilling (about 6.35mm in diameter) on steel rings, cover caps or backfill through grouting hole cover caps, and use 2-point threaded taps for drilling and tapping and locking 2-point check valve for pouring. Again, pour elastic non-expanding polyurethane resin to fill the voids behind the rings.
(3) Reinforcement and grouting to reduce seepage. Based on the principle of not carrying out large-diameter penetrating drilling on the ring, use the existing openings or pre-embedded pipelines for reverse grouting of SSA or SL long-term chemical grouting materials. Use high-pressure water gun to clean the grouting pipeline after pouring to maintain the original design function. This work was auxiliary seepage reduction grouting, and whether it was suitable for execution had to be determined according to the actual needs and the existing pipeline distribution conditions.

―
4. Works Process
Seepage reduction grouting is often used in TBM tunneling projects. There was no special abnormality in the process. However, to protect the safety of the pipeline & achieve best seepage reduction function, the following protective measures were taken during works:
(1) Max thickness of the sealing wall was 3m. When using a commercially available drill pipe with a max length 1.5m, to ensure best oblique drilling effect & to avoid risk of broken pipes, a locator was used to assist drilling per the situation.
(2) Checked whether the tunnel ring was deformed or damaged by bolts before drilling.
(3) After drilling through cover cap, first pulled out drill pipe to observe water flow condition, & not penetrate directly to the rear stratum at one time.
(4) Before operation, plugging equipment for the subsequent operations was prepared to shorten grouting device installation as much as possible. When working with multiple holes at same time, first used bolts to seal the holes, then installed grouting device centrally.
(5) Operations were carried out by experienced engineering personnel to avoid unexpected situations.
(6) If there was a confined water layer, a weak sand layer behind the ring, or there were doubts about the inaccurate backfilling from earlier stages, to avoid any danger, a small water stop valve would be installed after evaluation, then drilling would be carried out.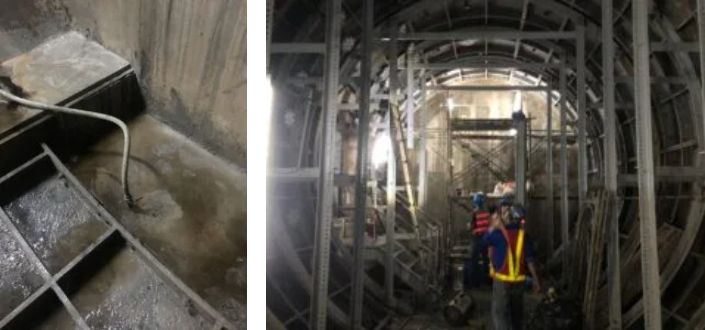 ―
5. Results
Because the grouting technology used in this project was well-developed, the various grouting operations were carried out smoothly. Although the project site was located in a high-water-level sandy soil layer in a saline-alkali area, the grout materials used in the design were all saline-alkali-resistant long-acting materials with good seepage reduction effect.
The project exceeded the contract requirements, the allowable water leakage of the inverted arch being not more than 1 liter per hour.
The requirement was also for no flowing water on the internal walls. The grouting work for leakage reduction of the TBM tunnel during the construction was successfully completed.

―
Leakage Reduction Grouting During TBM Tunnel construction
Get the full PDF by filling in your email
・More Construction Result Sharing
Contact us:+886 2769-2355
Copyright ©Jines Construction Co.,Ltd